Keep Employees on Board with Good Communication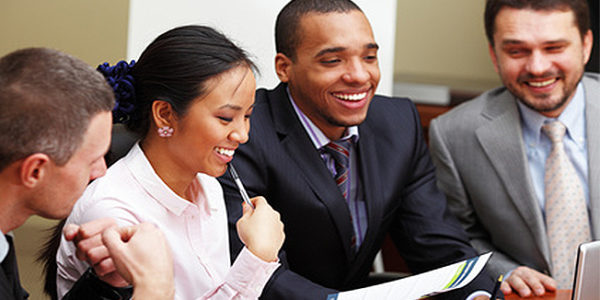 A picture's worth a thousand words, but for managers, it takes well-chosen words at the right time to keep employees in the picture. Let's say you're the VP of Sales for a major corporation. You feel qualified and competent in your position…you think it's all smooth sailing…you're the king of the world! Then the company's president calls an executive-level meeting, where she unveils the company's new sales compensation program. It's an innovative, creative plan—one that you had no clue the company was contemplating! Instead of "the king of the world," you feel like you're treading water as the Titanic sinks from under you.
Or, maybe a conglomerate recently bought out your company. Everyone in your department knows their job could be on the line. Each morning, there's another rumor about who'll be laid off next. Your department spends so much time speculating about the future that you're barely getting any work done. As the merger moves forward, nobody gives you and your colleagues any information about the future. Are you still at the top of the company food chain, or a guppy about to become a whale's lunch?
In both examples, you find yourself in an uncomfortable situation because your boss isn't providing the communication you crave, leaving you feeling incompetent, unimportant, and uncertain of your place in the company. Many managers don't grasp this, copping the attitude that they'll give employees information on a "need to know basis." Big mistake! Instead, employee motivation curdles into withering morale as gossip, rumors, and festering resentment run rampant. Good communication is essential to motivating your employees, improving their attitudes, making them feel like part of the team, and giving them up-to-date information that makes their jobs easier.
Managers must make it clear that while they'll seriously consider employees' opinions, other factors influence a business situation's outcome, too. For example, our friend Jean recently started working for our school district. When I asked her how things were going, she vented her frustration. Jean's principal had asked her and her fellow teachers to stay after school for several days to create a new tutoring plan. The teachers had put lots of thought and effort into the plan, only to have it scrapped before it even had a chance to start. Jean fumed, "I'll never volunteer to work on anything like that again!"
The problem, I realized, was that the principal hadn't managed the teachers' expectations. Instead of simply asking them to come up with a plan, she should have explained that she wanted their input, but budget concerns might mean the plan wouldn't actually be implemented for years. The program's outcome would have been the same, but the teachers wouldn't have felt so disappointed and angry at the principal.
These questions will help you determine whether or not your communication system does what you need it to do, and if not, how to fix it:
I'd like to get your input. What do you think of this idea?
We're over budget. What do you think we should do?
What are some ways we can make sure everyone here is on the same page?
Do you feel your ideas are given serious consideration?
What is the best way to communicate with you on a daily/weekly/monthly basis?
Right now we have a daily e-mail that goes out to all our employees, along with a monthly newsletter. How effective do you feel those systems are at keeping you updated on company news?
Do you feel you have all the information/resources you need to be effective in your position?
Who do you contact if you have an innovation you want to propose?
As managers, we're all guilty of giving lip service to the importance of communication. Managers don't take it seriously until bad communication wreaks its havoc. I worked with two companies with vastly different communication styles, and I saw firsthand how vital communication is for a company's success.
Telco looked like it was going to have a great year. It had just landed a huge national client in a deal worth $6 million per year, spreading revenue throughout their company's offices. Like its competitor Sky Tech, Telco had sales quotas for each regional office. This great new deal put all the regional offices on the books as above quota, though in reality, the regional sales managers hadn't been part of the negotiations. The Telco executives didn't want to give their regional sales managers the requisite bonuses because it was actually just a lucky windfall. Without consulting their salespeople, Telco's executives decided to raise their regional sales quotas in the middle of the fiscal year. They broke the news in a memo on Friday afternoon of the Memorial Day weekend. The company thought — well, hoped — the angry sales managers would cool off by Tuesday.
Meanwhile, Sky Tech was in trouble: having lost its biggest client, it was looking at a losing year. When Sky Tech's president called me for advice, I suggested she call a meeting with all her regional sales managers. I told her to confide in them about the problem and ask for their advice. I knew she had some sharp staffers, and I was sure they could come up with a workable plan to hit these new targets.
At the end of the year, who do you think was hitting their sales targets? Not Telco, even though they'd landed a $6 million client. After that Friday afternoon memo, Telco had a swarm of irate sales managers on their hands. Company morale sunk to an all-time low. Despite the new budget, sales were off for the next three quarters. Several of Telco's regional managers lost momentum or left the company, and those who remained felt betrayed.
Meanwhile, Sky Tech ended up with a good year, and an even better year after that. Their sales managers rallied behind the company, brainstormed innovative sales campaigns and saved the company from the brink of disaster. One major factor was clear to me: one included the team in their communications, the other didn't. The result: one company triumphed, the other didn't.
The message is clear: When employees don't get consistent communication from their employers, they feel unimportant and out of the loop. A great manager is a great communicator, and great communications lead to great employee performance.