How to Avoid the "Check-In" Call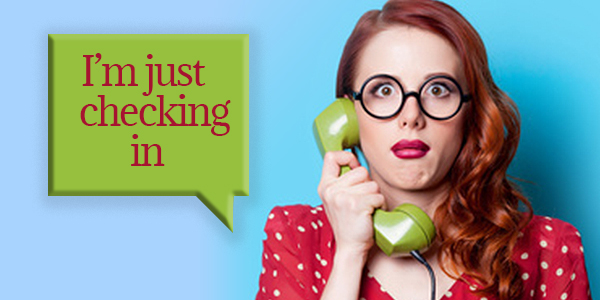 I have so many salespeople tell me some version of the following:
"I feel like I get into a rut with long-term customers. My company requires that I call on existing customers at least once every two months. They have explained that they want us to provide concierge level service to our customers, and they believe that these frequent contacts will lead to loyalty on our customers' parts and increased sales on our part. But, I feel like most of these calls do not have a purpose. I am just "checking in" to see how things are going with the customer."
There is nothing sadder than a sales call with no purpose. No one wants to say, "Hi this is Paul, I'm just checking in to see how things are going." You will almost never get a real conversation out of that statement. The only exception is, if the customer is angry with you or your company, then you will get an earful! In order to avoid the "check in," you need to do some homework before you make the call. If you know the customer well, you should be able to address one of the following in a call:
An ongoing problem they are having
(example: They can't get enough engineers to fill their open positions)
A plan they are putting into place for the future
(example: They are going to expand their sales into China in the spring)
An unexpected challenge that has arisen
(example: Their promising new drug was just denied approval by the FDA)
A celebration is in order
(example: They just landed a multi-million dollar a year client)
You can use any of the preceding issues as a jumping off point for the conversation. For example, you could ask, "How are the plans going for the China launch?" Or, "Will your company appeal the decision by the FDA?" These questions should lead to in depth conversations about your customers' business, and in turn what you can do to: increase their profits, smooth out their operations, or help plan for their future.
What if you do not know enough about a customer to use one of these topics? Then you need to do some research. The Internet is your friend. You should take advantage of the fact that all of the information you need is at your fingertips. If you are calling on an oil and gas company, for example, you could put this phrase into a search engine: "Oil and gas industry long-term trends and predictions." Then you should start reading the first 5-10 articles that look interesting. You can easily pick out 2 or 3 trends to start a dialogue.
One response to "How to Avoid the "Check-In" Call"