If At First You Don't Succeed – It's Feedback, Not Failure!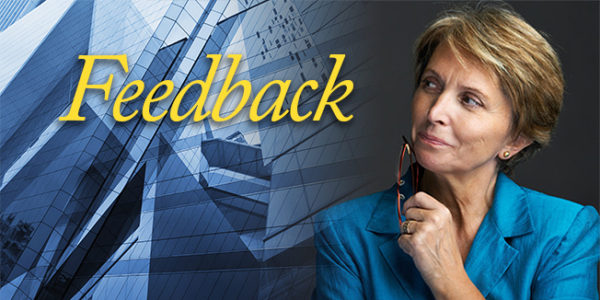 Patrick Keane was a walking study in contrasts. He was a good kid from an upper middle class family, yet he couldn't seem to stay out of trouble. One of five children whose parents divorced while the kids were still young, Patrick bounced from school to school. He was savvy, smart, and intuitive, but between being targeted by bullies and being misunderstood by teachers who just didn't get his way of learning, he dropped out of school during the eleventh grade. Patrick had to put money in his pocket fast, but what kind of work could he get without higher education? He took a job selling advertisements on the back of local street maps: the maps were on one side, the ads were on the flip side. Patrick began selling the maps door-to-door, hitting 50 businesses a day.
Problem was, with all the carrying, schlepping, folding and unfolding, Patrick's maps began to look the worse for wear, making them less attractive to customers when they'd already been a tough sell. Patrick got an idea: why not laminate the map ads to keep them looking fresh? Once he did that, Patrick was surprised when the customers ignored the ads and instead kept asking how they could get their hands on one of those laminated maps! A business was born.
So Patrick got out of the ad-sales business and into the laminated-map business. Each map only cost ten cents to begin with, and once he got them laminated, he'd mark up the price and sell them for a good amount of money. Local businesses, such as gas stations, towing services, and delivery services, gobbled the maps up. During this time, the Soviet Union was falling apart. This meant schools needed updated maps, opening up a whole new brand market for Patrick. He was able to sell maps to thousands of schools and universities across the nation. Here's this guy, a one-man band, working out of his basement, yet able to put a sizable dent in the profits of map giant Rand McNally.
Patrick's once-struggling business soared to success because he'd figured out how to capitalize on what the market wants, and how to deliver it. It's easy to become discouraged when your early attempts don't pan out. But when Patrick faced obstacles to his success, he chose to view them not as failure, but as feedback. When something didn't work out, he worked around it by keeping his eyes and ears open to what his customers really wanted, then giving it to them with great success.
Sometimes having a successful product can blind you to changes in your market, which is ironic if you make flashlights. Since the early 1980s, the Los Angeles Police Department had sworn by their iconic Maglites, also popular among military personnel. Mag Instrument, the manufacturer, had dominated the market with these high-quality ten-inch aluminum flashlights, which could also double as a club when a police officer was in danger. However, the L.A.P.D., looking to enter the 21st century with a flashlight that was brighter and smaller as well as kinder and gentler, began looking at LED flashlights, which were lighter in every sense of the word. Only then did Mag Instrument concede that they'd better come up with an LED flashlight of their own.
They approached the development of their LED flashlight with their famed painstaking perfectionism. The Mag team wanted to take its time and develop a high-quality LED flashlight that would live up to the company's great reputation, but they didn't want to rush it. However, with the LED flashlight makers coming out with new products by the bushel, many of Mag's customers proved fickle — including the L.A.P.D., which now purchases its LED flashlights from one of Mag's competitors.
Mag spent so much time and energy sticking with their tried-and-true formula, they virtually ignored the little companies nibbling at their feet. Thinking, "We're known for our flashlights, so we don't have to worry," they didn't adapt quickly enough to their customers' changing wants and needs. As a result, they began losing business to smaller, nimbler competitors.
You don't want to risk weakening your business by jumping on the bandwagon of every fad, but don't let that keep you stuck in your comfort zone, either. If you're adaptable from the start, willing to try new approaches before your competition does, you'll be able to take advantage of the marketplace. Pay attention to your customers as their needs and desires evolve, and you'll keep your competitors at bay.