New Book Release
Questions That Sell (Second Edition)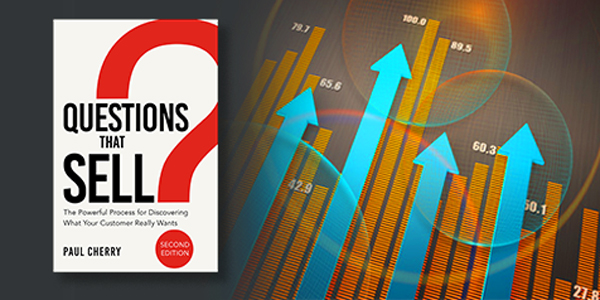 Due to the overwhelming success (and praise) of the initial publishing of Paul Cherry's first book, Questions That Sell – The Powerful Process for Discovering What Your Customer Really Wants, the second edition is being released.
Indispensable Addition to Your "SELLING TOOLKIT"
Ask the questions — and get the sale. As a salesperson your product knowledge is extensive, but that's not enough. If you fail to ask the right questions—the ones that uncover a customer's real needs—you will never close the deal.
 ADVANCED Questioning Techniques
Questions that Sell reveals advanced questioning techniques that will help you sell your products or services based on value to the customer, rather than price—and increase your success rate as a result. Packed with powerful examples, exercises, and hundreds of sample questions for a wide range of buyer interactions, the revised and updated second edition now includes new material on how to:
Use questions to qualify prospects — without insulting them
Discover hidden prospect needs and motivations
Overcome stalls and sales obstacles
Reinvigorate a stale customer relationship
Soothe anxious buyers
Accelerate the decision process
Upsell & cross-sell to stop leaving money on the table
Be a thought-leader in business and social media by posing intriguing questions
Turn social media contacts into active sales leads
Raise delicate questions
Identify dead-end opportunities
And so much more
The "HARD SELL" tactic no longer works!
In today's marketplace, the sales professional who uses pressure and hype is going to leave empty-handed. The real secret to successful selling is getting to know who your customers are, and what they really want and need. When you ask them the right questions, you'll build strong business relationships, uncover potential concerns, move past objections, and open up exciting new opportunities. And, ultimately, you will make the sale. Success is yours for the asking. Smart questioning will get you there.
TESTIMONIALS – What sales leaders are saying
"Questions that Sell surprised me. I thought I was pretty good at asking questions and listening. After reading this book, I have a whole new view of the role of questions. The idea that questions are a great way to lead was one I had heard often, yet this book makes that concept real. The types of questions Paul Cherry describes – with examples and stories – build collaborative relationships, and both the questioner and the person questioned learn and benefit. Questions that Sell is a great reminder to me that when I think I know what's going on with another person is when it is often most important to ask. It gives me ways of doing that in a neutral fashion that bypasses my assumptions and actually gets results.

Sheella Mierson, Ph.D. – Principal, Creative Learning Solutions
"Questions That Sell is the best book on questioning that I've ever read — and I've read them all. Paul knows more about great questions and how to create great questions than anyone I know. I recommend Paul's book to every person we train because it is a spectacular reference book on a topic that many people need to be better at. If, indeed, the statistics are correct, and 86% of salespeople ask the wrong questions, then Questions That Sell is a book every sales professional needs to read."

Jerry Acuff — CEO, Delta Point
"Listening is a skill and an art fundamental to business success. Good questions, however, are needed to shape and guide conversations. The insights Paul shares in this book improve your ability to ask more powerful, enlightening questions. Read this book. More important, apply the ideas and techniques that Paul provides."

Bill Shulby — Growth Strategist and Change Agent, Cigna
"Questions that Sell is inspirational and results-driven. It's a phenomenal resource that you can put into action immediately. Best of all, these solutions work so we can motivate our customers to take action. What really impresses me is how these questions shift us from selling products to delivering value. And that's what customers really care about. The bottom line is QTS has helped us grow our sales dramatically"

Andrew Firth – General Manager
ArrowQuip
"I found Paul Cherry's book, Questions that Sell to be a watershed moment, revealing the deep seeded personal habits that block my true potential.

I state this because asking the right questions allows me to put aside my agenda to be viewed as an expert and desire to be liked. The QTS model proves that a talking prospect is a comfortable prospect. And comfortable prospects open up to share true motivations, needs, and pains.

If your challenge is compulsive talking, storytelling, and a need to prove your value then I wholeheartedly recommend Questions that Sell. After 15 years of professional selling, countless training sessions, and endless coaching; I've discovered what I was missed, Question that Sell."

Adam Duffy – Power Salesman, Avantik
GET THE BOOK today!
Questions That Sell – The Powerful Process for Discovering What Your Customer Really Wants (Second Edition) is being published by the American Management Association (AMACOM). Get the book today at Amazon.com.
3 responses to "New Book Release | Questions That Sell (Second Edition)"