Shifting Buyers from Price to Value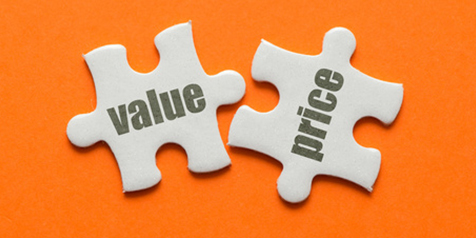 We have all come across those customers who seem to be obsessed with getting the lowest price. They will jump from one vendor to the next, just to save a few dollars. Many times, it is not worth your energy to try to keep these customers, because as soon as they find a cheaper price, they will jump ship.
Sometimes, you come across a customer who is too great to pass up, even if they have a hang up on price.  In this case, you need to be proactive if you want to hold on to them for the long haul. Here are three things to keep in mind when you encounter the price-obsessed customer:
1. Are you talking to the right person?  Just because "Jane" calls you to set up a meeting, does not mean she is the best person to talk to about this potential deal. Often the people making the initial inquiries are not the ultimate decision makers, and sometimes they will try to inflate their own sense of importance by beating up vendors on price. Other times, they have been sent in by higher-ups to do the dirty work of negotiating. If you ask Jane questions about her organization's values or her customers' expectations and she does not know the answers, then that is a clue that you should be speaking with someone else.
Is this prospective customer a good fit for YOU and your company? If you ask questions about values and expectations and all the customer wants to talk about is price, then her organization might not be a good fit for your products and services. You can think of the landscape of dining choices available to you in your hometown. If you want a cheap, quick meal, you are going to choose a fast-food restaurant. If you want a great quality meal with outstanding service, you are going to pick a nicer restaurant.
2. The same is true for salespeople and their customers. Some customers want fast food and others want fine dining. You need to know where you stand and only take customers who value what you have to offer. Do not try to offer a fast-food price for a fine dining experience; in the end, everyone will be frustrated!
3. What principles anchor the prospect's business? If you can uncover what makes this company great, you can then align yourself with those strengths. You can find this out by asking questions like this:
"What is it that your customers value? Why do your customers buy from you as opposed to your competition?"
These questions will give you insight into the mindset of the company, how they sell themselves to their customers and how they are trying to differentiate themselves in the marketplace. Then you can have a discussion about your company's values and why customers choose you over your competitors.