Top Six Agriculture Sales Trends That Can Affect Your Business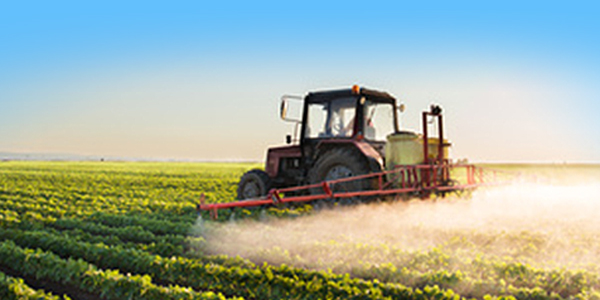 Challenges in the AgriBusiness Industry
Things are tough for farmers, ranchers, agrochemical companies, and farm equipment manufacturers these days. Historically, the agriculture industry has been reluctant to change its ways and it's easy to see why when you consider the risk involved with implementing or experiencing substantial change.
Think of it this way — if you make a misstep in a presentation or quote the wrong price, it may cost you what may have been a lucrative deal. The odds are good that you'll have other chances soon to recover from that blunder as you tap your pipeline of prospects and arrange future sales meetings.
But for farmers and professionals that serve the agriculture industry, the risks are, most certainly, much greater.
Farmers' competition and changes
Huge corporate farms are making competition among farmers more intense, so there's no guarantee that clients will return to a previous supplier after they've found another provider, especially if that provider can charge lower prices because of the volume of goods its farmland produces.
While farmers have to deal with the consequences of the changes they implement themselves — good or bad — they have to handle the consequences of changes from the outside world as well. Changing weather conditions are a constant threat. New weather patterns can yield profitable results or they can cause an entire crop to fail if they produce disastrous results.
Dealing with risks
Farmers must also pay close attention to changes in the nation's political climate. Will a new administration bring a positive change in government subsidies or cutbacks? Like the rest of the population, farmers simply have to wait and see what will happen before they can figure out how they'll need to adjust.
Many American farmers are in the ag industry because it's in their blood and is part of their heritage, which means most of them aren't in their profession for the money. They hold onto familiar equipment for decades and struggle to keep it running because they often can't afford to replace it or don't want to.
Even though many famers know that embracing change and adopting new technology may help them weather the changes of the world, they often can't afford to act on this knowledge. Or they simply won't, because of the potential risks.
Certain industries have higher risks associated with change — that's a fact. But the potential benefits of change in the farming industry have the chance to far outweigh the risks involved. The problem many ag salespeople face is convincing farmers who are entrenched in their ways that change can help, not hurt, their operations.
Farming in the United States
Every few years, the U.S. Department of Agriculture conducts a "Census of Agriculture." The most recent surveys were conducted in 2007 and 2012, respectively. We used this data, along with the recent political and economic climate to forecast future trends in the farming industry. Comparing the results of each survey and looking at statistics provided by the American Farm Bureau and other sources reveal some telling information about the farming industry in America and farmers in general.
According to the USDA's most recent "Census of Agriculture," 2,109,363 farms operated in the United States in 2012, an increase of 4.3 percent from five years earlier. The size of the average farm increased 3.8 percent during the same time, growing from 418 acres to 434 acres per farm.
In 2012, American farms sold $394.6 billion in agricultural products, which represented a $97.4 billion, or 32.8 percent, increase over the aggregate agricultural sales figures reported in 2007. More specifically, crop sales increased by 47.9 percent between 2007 and 2012, and livestock sales increased by 18.7 percent. Since the USDA began conducting the "Census of Agriculture," the survey performed in 2012 was only the second census to reveal that revenue from crop sales exceeded the money ranchers made from the sale of livestock.
Per-farm agricultural sales increased by more than $52,000, or 39 percent, between 2007 and 2012. Our best guess between the challenges with the global economy and the most recent census data is that things have remained flat and in some situations have even gone south. Even though per-farm sales averaged $187,000 in 2012, 75 percent of the nation's farms recorded total sales of less than $50,000 in the same year. According to a report prepared for the Federation for American Immigration Reform titled, "Illegal Immigration and Agribusiness: The Effect on the Agriculture Industry of Converting to a Legal Workforce," just 5.7 percent of the farms operating in America are responsible for 75 percent of the country's total agricultural sales.
According to the American Farm Bureau, the United States exported $133.1 billion in agricultural products in 2015. Approximately 31 percent of the country's total farm revenue is derived from exported agricultural goods. About one-third of the nation's farmland is planted for the purpose of exporting agricultural products, and around 23 percent of the raw farm goods produced in America are exported annually.
Since 1950, farmers have been able to produce 262 percent more food using a smaller number of inputs such as seed and fertilizer. While one farm feeds an average of nearly 170 people annually, production will need to ramp up in future decades. The world's population is projected to swell to more than 9 billion people by 2050. The American Farm Bureau predicts the globe's agricultural production will need to increase by 60 percent to meet what the world's demand for agricultural goods will be by the middle of the century.
As an agriculture (or agribusiness) salesperson, you can help farmers increase their production levels. How? By showing them how the changes they can implement with the goods and services you sell can improve their operations.
Agriculture sales trends
With the world's production of agricultural goods increasing by 2.8 percent per year, it's natural to assume that the nation's agricultural sales forecast would reflect a related increase in revenue, but the reverse is happening. Farm income hit a record high in 2013, but it has fallen every year since, with a decrease of 15 percent in 2016 alone. In Vol. 94, No. 7, The Kiplinger Letter predicts that farm income will drop another 8 percent in 2017.
There are many factors responsible for the drop in farming income. These factors include increased competition from around the world, as well as the strength of the dollar in relation to other currencies, which makes agricultural products exported from the United States more expensive and less competitive than others.
Even though farm income is expected to decrease in the United States, the farm equipment sales forecast isn't necessarily tied to agricultural sales. That's due, in part, to the technological advances that have been made in the farming industry. Given these advances, the farming industry is moving toward automation and "smart farming," which gives salespeople the opportunity to introduce farmers to new equipment that can help them remain competitive and profitable.
Here are some agricultural equipment market trends you should pay attention to when you're formulating your sales strategy:
Ag Sales Trend #1:
Illegal immigration and agribusiness

The effect on the agriculture industry of converting to a legal workforce shows that about half of America's crop farm workers are unauthorized immigrants who make $5,600 less per year than authorized workers do. The agribusiness industry has long opposed a change in the country's immigration policy that would force farms to hire a mostly or entirely legal workforce. Their opposition is based on the belief that citizens and legal laborers don't want to work in the industry and that the pay increases necessary to attract legal workers would cause food prices to rise or agricultural production to fall.
Legalized workers are agreeable to pay that's 18 percent more than what unauthorized workers make in the fruits, nuts and vegetable niche and compensation that's 22 percent higher in the field crop and grains sector. If legalized workers replaced unauthorized laborers at the rate legal workers now earn, the labor cost for fruit, nut and vegetable farms would increase by 10 percent. Labor expenses for field crop and grain farms would go up by 6 percent. Corn, soybean and cash grain farms would incur a 6-10 percent increase in labor costs, and they would experience a 1-2 percent decrease in net income from their operations.
With increased labor costs and reduced revenue at stake, it's understandable why the agribusiness industry staunchly opposes changes to the U.S. immigration policy. With the current national immigration crackdown and more barriers to prevent unauthorized workers from entering the country possible in the future on both physical and legislative levels, many farmers and ranchers are worried. They're concerned and curious about how they'll be able to keep their farms and ranches operating smoothly, cost-effectively and profitably if good, affordable help is no longer available.
These concerns are making advanced farming equipment that saves time and reduces the amount of physical labor needed to keep a farm running increasingly attractive to a larger number of farmers who may have resisted its use under different circumstances.
Ag Sales Trend #2:
U.S. farmers are getting older

According to the latest USDA agricultural census, the average age of farm operators age has risen steadily over the last 30 years, placing the principal operator at age 60. Inversely, new farmer numbers dropped at least 20%. Most farmers today will retire soon, leaving behind few young farmers ready to take their place.
With farmers aging, it's increasingly important for them to have access to equipment that can make their lives easier, reduce their physical workload, reduce or eliminate safety risks and get critical tasks done faster. This need is underscored by the fact that, while many farms are family-owned, succeeding generations don't necessarily want to follow in their parents' and grandparents' footsteps and pursue careers in farming. This makes current and future developments in automation, autonomous equipment and robotics even more vital to the future of individual farms and agribusiness in the U.S. in general.
Ag Sales Trend #3:
Interest rates are affecting agriculture equipment sales

The farming landscape is changing significantly, and entering a new era of technological change to meet population growth, climate change, changing diets, and competition for resources. Today's SMART Farms strive to be sustainable by utilizing science and technology to be faster and more efficient while growing and producing the world's best food supply.
Just as they can make it difficult and more expensive for consumers to finance things such as vehicles and homes, rising interest rates are a major cause for concern among farmers and ranchers, given the costs involved with buying capital equipment and farmland. You'll need to get more creative with incentivizing farmers to buy things from your company.
While equipment dealers throughout the country are getting closer to offering smart farming equipment for sale on a large-scale basis, the costs of financing intelligent equipment may prove to be prohibitive to farmers, especially if interest rates continue to rise. Even though some manufacturers are focusing their development efforts on designing large equipment such as autonomous tractors, some are developing smaller equipment, such as robots that will be available as a fleet, instead of a single piece of equipment.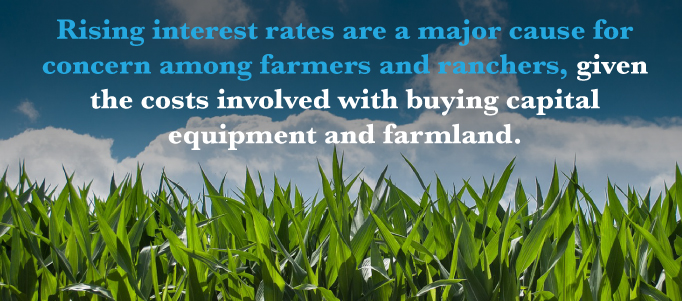 The smaller equipment is expected to be more mobile and easier to transport from one location to another. If that's the case, one creative way to entice farmers to use your equipment may be to lease fleets of equipment to farmers rather than requiring them to purchase it. This will prevent farmers from having to finance a large capital expenditure and enable your company to retain ownership of its advanced assets.
Ag Sales Trend #4:
U.S. agriculture faces greater competition from foreign markets

As was mentioned briefly earlier, increased competition is one of the 2017 ag sales trends you should pay close attention to. For instance, the United States produced 65 percent of the world's wheat as recently as the 1970s, but now has only a 30 percent market share. Russia, which used to import wheat, is now the globe's biggest exporter of the grain.
Like Russia, Brazil has also displaced the United States as an agricultural producer. In the case of Brazil, the country is now the world's top provider of soybeans, not the United States. Brazil doesn't just export more soybeans than America, its product is reputed to have more protein than soybeans grown in the U.S.
Increased competition means farmers must find ways to ramp up their production and keep their labor costs low. This often means they'll need to embrace technological solutions as they move forward. This gives you the chance to fill not a sales role, but to serve your clients and prospects as a trusted consultant and collaborator who can help them make changes that will enable them to remain serious players in an increasingly competitive marketplace.
Ag Sales Trend #5:
Government farm subsidies have an uncertain future

The agribusiness industry has benefited from support provided by the federal government for an extended period of time. One of the first subsidies the federal government extended to the farming industry was the Morrill Act of 1862, which was used to create land-grant colleges. Today, the federal government provides eight basic kinds of subsidies to farmers:

Insurance
Agricultural risk coverage
Price loss coverage
Conservation programs
Marketing loans
Disaster aid
Marketing & export promotion
Scientific research
Even though the American Farm Bureau reports that the nation's farm programs cost Americans mere pennies per meal and they consume less than half of 1 percent of the country's budget, they're perceived as wasteful by many elected officials and voters alike. With some Washington insiders and outsiders recently expressing interest in "draining the swamp," subsidies are no longer something farmers and ranchers can rely on.
With the future of farm subsidies more uncertain than ever, it's critical for operators in the agribusiness industry to explore new ways to become more productive and profitable, which creates sales opportunities for you.
Ag Sales Trend #6:
The future of NAFTA is unclear


Recently, the news has been filled with reports about NAFTA (The North American Free Trade Agreement). The United States will either renegotiate or pull out of this deal it has had with Canada and Mexico since the 1990s. In response to these reports, Mexico has suggested it will find another provider of corn — a move that could have a negative impact on the price of crops grown in the United States.
With the prices of certain crops so heavily dependent on political decisions, it's important for operators in the farming industry to prepare to make changes so their financial security isn't predicated on political whims or far-reaching spats between nations. The only way for them to do this is by embracing change and identifying opportunities to plant different crops, both of which you can help them with.
Performance Based Results
While recognizing agricultural market trends and being familiar with agricultural industry sales forecasts are important to you as an ag sales professional, they're not enough to help you enjoy continued success in your field. You also need to know what you'll have to do to adapt to these trends and deliver solutions that are appropriate for your clients despite all of the external forces influencing the agriculture industry.
For many agribusiness salespeople, adapting to change in a rapidly shifting industry is a learned skill. Although that might be comforting to many ag sales pros, it's important to realize that learning to adapt from just anybody can be risky.
Performance Based Results offers customized training programs that help agriculture sales professionals close more deals. We do this by helping you ask your customers the "right" questions — "power probing" questions that allow you to get to the heart of what your customers actually need. The end result — more engaging and more profitable customer relationships within the agribusiness industry.
3 responses to "Top Six Agriculture Sales Trends That Can Affect Your Business"