Your FREE copy of "The Ultimate Sales Pro" + More!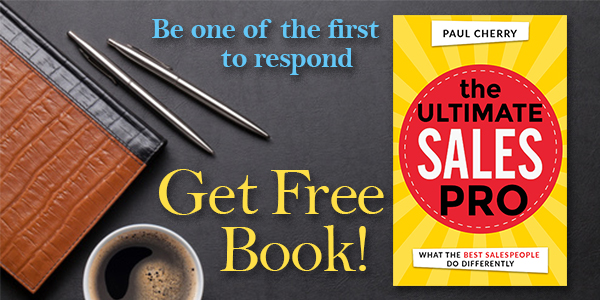 Q4 is underway!
This is it… It's the fourth quarter of 2018. As a sales pro, this is your last chance make this year your best year yet and finish stronger than ever.
We've all been taught that to make the most of the 4th quarter, it's important that we focus on the "low-hanging fruit" and not cold prospects. But with only a few months left in 2018, how can we take the effort out of the equation and shorten the sales cycle so we can close more deals in less time? And what do we do when the prospects that we thought were easy and obvious opportunities turn out to be unavailable or impossible to reach?
FREE GIVEAWAY – First 20 people who respond only
FREE BOOK
Receive a free copy of my latest book, The Ultimate Sales Pro.  Published by HarperCollins Leadership, this book will show you what the best salespeople do to DOMINATE their market instead of compete in it for the leftover scraps that nobody truly wants.
---
BONUS #1:
FREE AUDIO BOOK
Receive a free digital download of my audio program, Top Questions for Maximum Results including the bonus workbook! This presentation is based on concepts from my top-selling book, QUESTIONS THAT SELL. It will expose you to the right questions to ask throughout the selling process. This is a MAJOR KEY in speeding up the sales cycle by getting potential clients to reveal their true "pain points" to you.
---
BONUS #2:
FREE WEBINAR
Receive an exclusive, personal invitation to join a select group of "Ultimate Sales Pros" for a live web seminar that will provide answers to your most pressing sales challenges. This is invitation only.
REVIEW MY BOOK ON AMAZON
All I ask in return from you is to leave an honest Amazon Review for my newest book, The Ultimate Sales Pro.
This opportunity is limited to only the first 20 individuals who respond and accept the offer.
So what do you say? Do we have a deal?
Simply click here to send me an email with WE HAVE A DEAL!  in the subject line, so I can ship your free copy of The Ultimate Sales Pro.
After you submit your Amazon Review, you will receive the free digital download (Bonus #1) and exclusive web seminar invitation (Bonus #2).
Here's to a successful Q4 of 2018!
4 responses to "Your FREE copy of "The Ultimate Sales Pro" + More!"